Details
Radiator for Freightliner Truck
Fits: Century & Columbia Series
Years: 2004 to 2007

Heavy Duty All Metal Radiator
with Brass Tanks / Copper Core
**WITHOUT Frame

CORE HEIGHT: 41 3/4"
CORE WIDTH: 30 5/8"
DEPTH: 1 9/16"
ROWS: 3
INLET: 2 1/2" - Upper Right - 5 3/4" In
OUTLET: 2 1/2" - Lower Right - 5 3/4" In
OIL COOLER: No

2-Year Limited Warranty*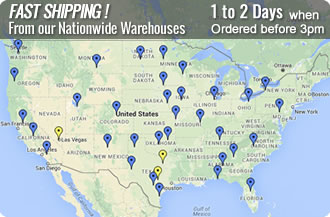 Recommended:
Part no: Z72009 - Mounting Isolator is a recommended replacement when installing this radiator.
Notes:
For Radiator WITH Frame, use part no: SC-239336
For Radiator WITHOUT Frame and plastic tanks/aluminum core, use part no: SC-239138
For Radiator WITHOUT Frame and bottom hose connection on lower left, use part no: SC-239368
For Radiator WITH Frame and bottom hose connection on lower left, use part no: SC-239326
OEM Part Numbers:
0520514001, BHTA9986, BHTA9988, BHTD9546, BHTA4950, A0519870011, A0519870002, BHTE7236, BHT2315, BHTC2315, U3780001, A0519870003, U3698001, U3692102, BHTU3698001, BHTU3698, ABPN2020011711, 437601S
Other Reference Numbers:
BHTA9450, BHTD9547, DHTFR1306B0023, BHTA3562, A9450, BHTU3780001, BHTU378001, U378001, D9547, U3698, A3562, BHTU3692102, U3692002, BT7157CPM, U3692001, E7236, C2315, BHTU3692001, A9988, A9986, 520514001, CTVTM80593, FRE22, FLX000235, 20011711, A0519870013, A0519870015, A0519870017, A0519870019, A0519870021, BHTA6392, A6392, BHTC0692, C0692, D9546, BHTD9558, D9558, BHTD9567, D9567, BHTE7233, E7233, BHTH5464, H5464, BHTE7233002, E7233002, SPI20011711, SRM8059, 43059, FRE22AP, CVTM80593, ACTSA805944N, ACSA805944N, ACTAA805944N, BHTU3692002, A0534822000
You may also be interested in the following product(s)
Best Quality & Price - Satisfaction Guarantee
At Superior, we build and supply only the highest quality radiators with heavy duty components for superior quality, maximum heat rejection and long life durability.
We want your business and will go the distance to prove that our radiators and service are superior to others in the industry.
Please call us at
1-800-578-8416
and we will do our best to beat or match another price or quote you find.
Or, fill out the form below and we will contact you.