Details
Tester is for applications with 2 5/8" to 5" connections.
Kit Includes:
• Set of 2 Pads
• Regulator Gauge
• Safety Valve
• Printed Instructions
According to most OEM specifications, Charge Air Coolers that show a pressure drop greater than 5 PSI within 15 seconds when pressurized at 30 PSI should be replaced. Superior's CAC Test Set provides you with the tools to safely and effectively determine whether any CAC passes or fails the manufacturer's specifications.
12 Month Warranty*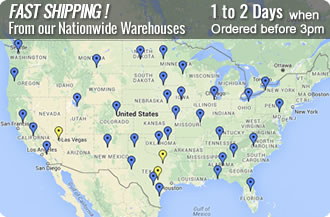 Why Test?
#1:
Leaking Charge Air Coolers leak away turbo boost. Low or No boost means MPG loss and horsepower loss. Consider this, at $4.00 per gallon fuel cost, by finding an air leak you can easily save 600 gallons of fuel per year, per truck. That's $2,400 savings per truck per year.*
#2:
The test is easy. You can test the Charge Air Cooler without removing it from the truck. If it doesn't leak, all you are out is the cost of the test. If it does leak, fix or replace the Charge Air Cooler and you can stuff 24 $100 dollar bills in your pocket with the fuel savings, plus your power is renewed!
#3:
But I thought a little Charge Air Cooler leak was Okay? So how much is a little leak? Think of your Charge Air Cooler as a water faucet - a drip every once in awhile is okay. But, drip, drip, drip means a big water bill or in our case a loss of fuel mileage or power. A technician can tell you the specification, but if you don't test, you won't know!
So Test and Save, it's that EASY!
Charge Air Cooler Leak Test OEM Rate Specifications:
| | |
| --- | --- |
| Caterpillar | 5 psi in 15 seconds @ 30 psi |
| Cummins (ISB, ISC, N14) | 7 psi in 15 seconds @ 30 psi |
| Cummins (ISX, M11) | 5 psi in 15 seconds @ 30 psi |
| Detroit Diesel | 5 psi in 30 seconds @ 30 psi |
| International | 5 psi in 15 seconds @ 30 psi |
| Mack | 5 psi in 15 seconds @ 30 psi |
| Mercedes | 5 psi in 15 seconds @ 25 psi |
| Volvo | 5 psi in 15 seconds @ 30 psi |
Note:
Charge Air Coolers are not designed to be 100% air tight and leak free.
Best Quality & Price - Satisfaction Guarantee
At Superior, we build and supply only the highest quality radiators with heavy duty components for superior quality, maximum heat rejection and long life durability.
We want your business and will go the distance to prove that our radiators and service are superior to others in the industry.
Please call us at
1-800-578-8416
and we will do our best to beat or match another price or quote you find.
Or, fill out the form below and we will contact you.